Circumnavigating the frozen zone
Five fortnights walking the perimeter
---
And after that ...

20 November 2001 to 4 July 2002

Copyright © 2002-2005 Diane Fisher.

---

photos: adpFisher


This project was truncated several weeks shy of when I'd have wanted to conclude it by a situation whose details I won't inflict on you (landlord-tenant stuff--ended as abruptly and unexpectedly as it started). That's over, but it disrupted the process irreparably. Although I continued to spend about the same amount of time downtown, I was too distracted to keep notes routinely and in any event wouldn't have had time to impose order on them. One day I may try to collect my mental notes, but I suspect they're fading without my even being aware. What comes readily to mind--below--will probably have to do. --adpF, 4 July 2002
---

With balletic finesse and noisy blunt force, wrecking crews brought down 5WTC and slowly, slowly but eventually, the last of 6WTC in November and December 2001. Much of the north tower had fallen into 6WTC and much of 5WTC's frame had continued to stand upright after the towers' collapse and the fires.

Beam by beam, girder by girder, column by column, the inexplicably exquisite skeletal remains of the towers were depleted to nothing, satisfying survivor-family demands and disappointing New York City residents who'd envisioned a small section staying in place as part of a memorial.

The metal was cut to fit on long flatbeds that wound around the city's oldest streets, tortuous and narrow, or up Vesey, to West Street and the cranes at Pier 25 that lifted the metal and swung it over onto barges. Big dump trucks delivered tons of rubble. The circular parade never stopped. Trucks were always wet, hosed down exiting the site, hosed down again on arrival at the nearby pier. Streets were always wet and gray with the washed-off dust.

No more identifiable structural fragments were visible from the perimeter of the frozen zone by the end of December. What remained to be done was underground.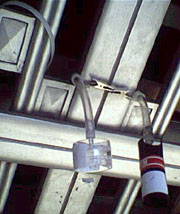 And by the end of the year the fires and that vile stink finally were extinguished. While I'd recognize the stink again in an instant, I can't swear that I'll always remember it because, oddly, in truth I've forgotten how it smelled. Air-testing meters still are all over the place, but around here E.P.A. credibility is near-zero. No surprise. Christie Whitman was no stranger to us.


Door of the federal building on
Church at Vesey, mid-June 2002.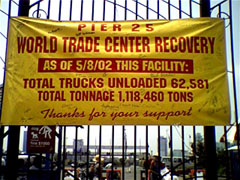 The parade kept rolling. The frozen zone shrank sidewalk by sidewalk in winter and spring to little more than the site itself. Some cops grew testy. I was threatened with arrest. ...


A fellow who works in the office building opposite St. Paul's told me about running up Broadway after the attack. When he and his co-workers got to Canal Street, he looked over his shoulder and the north tower fell. He said his reaction had been, Oh, the other tower's gone too?--in the detached tone you might use to observe, Oh, you're out of Roquefort? They kept running. ...

After I saw the Winter Garden listed as a structure rescue crews were forbidden to enter under any circumstances last fall, I jumped to the conclusion it had been damaged beyond repair. The WFC plaza was reopened pretty quickly, and I'd sit at water's edge on raw, gloomy days gazing sadly at the scaffolding jungle inside the atrium. Before long, during one of those sittings I spotted a hardhat nearby. Incredulous, I asked if it was going to be repaired. He said he thought so. That may have been my happiest civic moment since the attack. A few days later another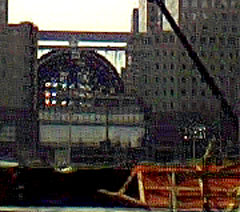 hardhat gave me a tentative probably. I finally relaxed when the Times ran a piece about the reconstruction <link on Winter Garden photo page>. The last hardhat I talked with said the goal is to finish in time for 11 September ceremonies. I doubt the likes of you and me will get anywhere near. Wonder if I could pass as a "Web journalist."



Beyond the pit, Winter Garden from Church at Dey, 9 July 2002--
with a lot more light passing through than has been seen in a long time,
suggesting that some of the interior scaffolding has been removed


Increasing waves of tourists from all points peered respectfully at what was no longer there, some from the viewing platform next to St. Paul's graveyard. The platform had hardly got going when the section of Church Street under it reopened to foot traffic. (One construction worker told me that all that could be seen from the platform was the roofs of the construction trailers that blocked the view from Church Street. He didn't say whether he knew that from first-hand experience.) <9 July: The platform may have passed into lore. Nobody was on it two days ago--a Sunday--or today.>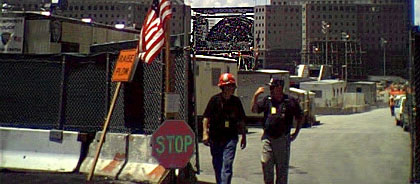 A few of the construction trailers and shacks, from Church at Vesey, mid-June 2002.

The once spontaneous and poignant tribute-hung fences around St. Paul's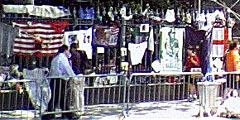 looked increasingly, to put it as politely as possible, like a calculated flaunting of unwashed laundry. More than a month after the pit had become a construction site, the display still was hanging. St. Paul's was such a vital and valued relief station for rescue and recovery crews, I guess they must know what they're doing.

While the vulture vendors of WTC ghoulabilia offend me no less than when they first turned up,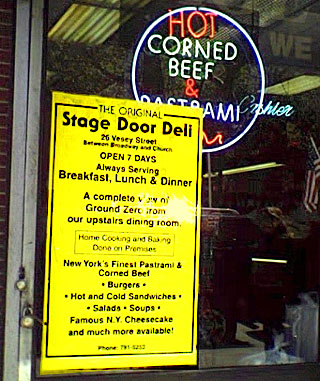 I have no argument with neighborhood businesses that do things like the Stage Door Deli, where rescue crews camped out for weeks and which, since reopening, requires a very modest purchase <photo update> for use of its upstairs dining room overlooking the site. Nobody who wasn't there knows what those merchants experienced personally that morning or financially in the months after. But anybody who walked around downtown during the recovery knows the amusingly aggressive Dakota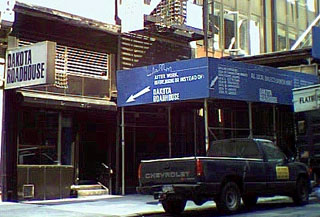 Roadhouse efforts at, uh, "outreach." Scaffolding in front of the joint lists the local dialects spoken--union locals (photo 12 June 2002). The jeans store that was so damaged reopened with a museum-grade sealed-glass exhibit at the front inside of gray dust-coated merchandise just as it was when it became the subject of so many photos taken immediately after foot traffic was allowed again on that part of Broadway and the door and display windowglass still were missing (the Times ran a small feature on the exhibit). The closer stores are to the site, the more likely you are to see homemade displays--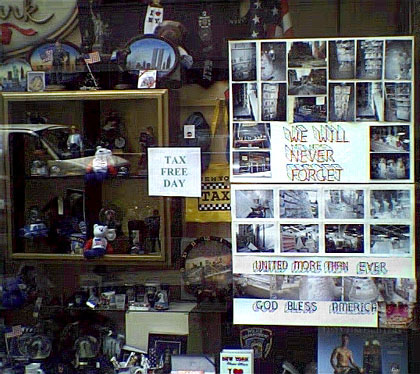 Display window of a franchise store on Church Street
a block and a half north of ground zero, 9 July 2002

snapshots and such--along with the usual merchandise in the windows. Stores near the site that still are open, that is. Nino's, the Canal Street restaurant that closed its doors to the public to serve as a food and relief station for cops and rescue workers, chose not to reopen (not because of proximity) when those services no longer were needed. I wonder where that quilt went that was made by poor Texas grade school children and presented by a district school official and his wife the day I ate there. ...

The "Tribute in Light" twin laser beams sounded to almost everyone like a swell idea and the concept had practical appeal: It could be done quickly and, as such things go, cheaply. In execution--well, if it fell far short of stunning, no blame attached and it was a harmless distraction. The best that can be said is that some of the online folk art the beams inspired rivals the best of Elvis oil on velvet kitsch. ...

The weather gods continued to smile all winter on recovery crews digging ever deeper into the pit, well ahead of schedule, and on this battered city.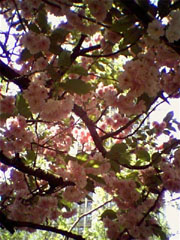 Spring brought a giddy profusion of cherry blossoms (I guess they are, I'll add with embarrassment) overhead all over, and flowers, more daffodils and tulips than could have been imagined, too many, too much, which was exactly the right amount, flowers everywhere you looked <photo update>, thanks to the generosity of the Dutch nursery B&K Bulbs, the city of Rotterdam, and the New Yorkers who planted the bulbs last fall. I think the Dutch posies achieved their goal: Spring was a subtle but real psychological turning point among folks who hadn't been directly affected, definitely for the better if the mobs who've been shopping at Century 21 since it finally reopened are any measure <update>.

After the 30 May ceremony marking the end of recovery work, the west side of Church Street next to the pit and--on the WFC side--Vesey down to West Street finally were opened to pedestrians. Every vehicle exiting the site continues to be hosed down.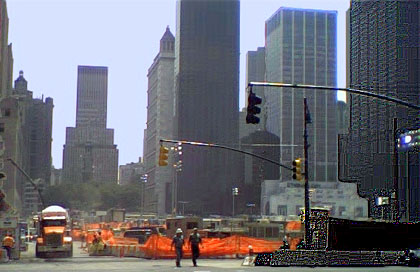 Eastward, from Vesey at West Street, 20 June 2002

Italian visitors had asked last fall which WTC building was which; in June a young German asked where the WTC buildings had been. She'd said she had a dumb question, I'd said a cop had told me there are no dumb questions. How high were they, she asked. When you stand next to the site, that question is harder to answer than you might think. That close up, it's difficult now to visualize how extraordinarily high they were. Higher than any building you've probably ever seen, I said, more than two and a half times as high as ... turning ... we stood on the Trade Center side of Church nearly in the shadow of the Pirate Jenny of WTC neighbors. She was surprised when I told her that that sinister black skyscraper--the one you see in so many photos--is the Deutsche Bank Building. At that moment, crews for the first time were searching the badly damaged and contaminated building (the Times called it a crypt) for more body parts. When that--as it turned out, fruitless--search ended 24 June, the job at ground zero really was done--months early, under budget, with no fatal injuries. <clarification, 16 July: The recovery effort at Fresh Kills officially concluded yesterday; the id process at the morgue is expected to continue for months.>

Bechtel, the G.O.P. international construction monolith the feds tried to force on us to conduct the recovery phase, might want to consult the New York City strategists and folks who did the work 24/7 from minutes after the attack on how to do a project of staggering proportion right. They deserve to be as proud as they are of the mythic job they did. ...
Should I mention that as I finish writing this, on the 4th of July, air space over Manhattan has been closed to all civilian traffic and F16s are patrolling as they were on 11 September and the days after? Well, I know now where the closest fallout shelter is--wouldst that it could protect our fading democracy from an administration that I believe will stop at nothing to keep power.

Leroy Street, 22 July 2002
I've tried to stay divorced from preliminary discussions of the site's future ... but ==> What next?



--adpF, 9 June-9 July 2002